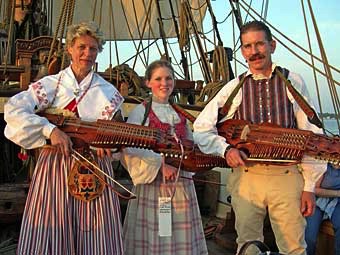 Once in a blue moon Rita and I are asked to share our music with others. Here we are with our friend Bronwyn Bird on board the tall ship Kalmar Nyckel (above) in Wilmington, DE, and at Longwood Gardens (below) in Kennett Square, PA. Click here to hear us play our nyckelharpas for dancing at a wedding, and click here to see us dancing a "bondpolska" at the same wedding.
If you care learn more about the nyckelharpa or Swedish music I invite you visit Rita's website: www.ritaleydon.com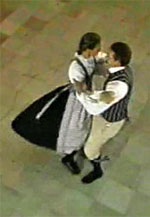 Chris and Rita Leydon together with fiddler Andrea Larson were featured in a spot on WHYY in Phildadelphia during their 1999 Heritage Week observation. The dance is called hambopolska from Föllinge. Föllinge is in Jämtland, Sweden.
Our friend, Peter Puma Hedlund from Sweden, plays Tobogubben—a traditional tune—while we dance the hambo at a performance in Lahaska, PA.