At this event it is the Maserati 8CTF which is the fruit of Leydon Restoration's labors (the blue car with "49" painted on the side).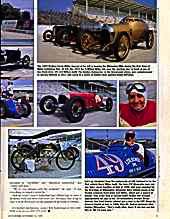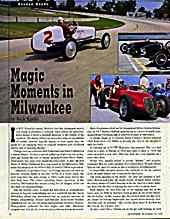 Magic Moments in Milwaukee
by Rick Kocks
In W.P. Kinsella's novel, Shoeless Joe (the subsequent movie was Field of Dreams), a celestial voice directs an optimistic Iowa farmer to build a baseball diamond in the middle of his cornfield. His heroic efforts are rewarded when an assortment of mythic baseball legends appear to once again play the game. It's an engaging story of magical moments and childhood heroes, and of pursuing dreams.
Vintage race car collectors Bob Sutherland and Dave Uihlein had a similar dream--to host a special gathering of pre-war racing legends and feature the cars of master designer/builder Harry Miller. After nearly two years, their dream became reality. In July, the first Harry A. Miller Exhibition Run was staged at the Milwaukee Mile under the auspices of the Miller Club, of which Uihlein is president.
"America's Legendary Oval" is a fitting location for such an historic reunion. Built in the late 1870s as a horse track, the mile oval first saw auto racing in 1903, eight years before the first Indy race. The oldest operating major speedway in the country, Milwaukee has hosted a long list of midget, stock car and Indy car championships.
And the legends came. It might not have been as cinematically moving as legends materialized out of a cornfield, but the barren Milwaukee infield was transformed into an open-air museum of Millers, Duesenbergs, Stutzes and Mercers. Scale-model builders clambered over the cars, recording measurements for future projects. Photographers jockeyed for best angles and light. Historians swapped lore. For all, the event served as a history lesson on wheels.
Buck Boudeman rolled out his streamlined Miller Golden Submarine. In 1917, Barney Oldfield raced the car in a series of match races against Ralph DePalma, one of which took place at Milwaukee.
A debate began as to whether Dave Uihlein's freshly restored 1925 front-drive 122 Miller is actually the first or the second of only two built.
A matched set of 8CTF Maseratis was reunited. The cars had raced as a team in Europe in 1938 and came to Indy in 1940, but were separated a year later. This was their first time together on a track since then.
Walter Hill, jauntily attired in period "helmet" and goggles, explained that his gaily-painted 1933 Duesenberg Wonder Bread Special had spent its career as just a workhorse at Indianapolis.
A beautifully restored motorcycle, believed to be the earliest work of Harry Miller, was displayed by Jim Lattin.
The event appealed to the senses--the glint and glimmer of polished chrome and paint, the steady burble of finely tuned engines, the heady aroma of Castrol hanging in the air. And for a lucky handful, there was the thrill of lapping the mile oval in a classic racer.
Emil Andres, 85, was both one of the legends and one of the lucky ones. In 1946 he finished fourth at Indy in one of the Maseratis on display [the Leydon restoration]; on this reunion day, he climbed back into the cockpit, turned his ballcap backwards, and zipped down memory lane. After his tour, he boomed, "She's really alive, boys! If she had run like this in '46, I'd have won."
At day's end, Dave Uihlein sat on the pit wall basking in such accolades as "incredible" and "absolutely outstanding" and "really well done."
"We're very pleased with the weekend," he said. "It was everything we hoped it would be."
And the event's future? Sutherland and Uihlein hope to make it an annual event and draw even more cars. Someday, they'd like to stage it at the Brickyard, in that grandest of all Field of Dreams.