Classic and Sportscar
October, 1995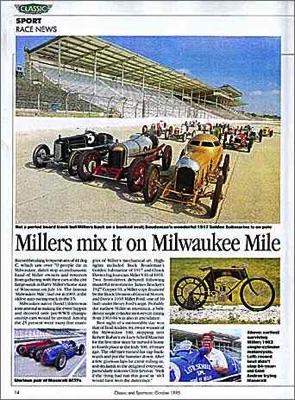 Record-breaking temperatures of 41 degrees C, which saw over 70 people die in Milwaukee, didn't stop an enthusiastic band of Miller owners and restorers from gathering with their cars at the city fairgrounds in Harry Miller's home state of Wisconsin on July 16. The famous "Milwaukee Mile," laid out in 1903, is the oldest auto racing track in the US.
Milwaukee native David Uihlein was instrumental in making the event happen and decreed only pre-WWII championship cars would be invited. Among the 25 present were many fine examples of Miller's mechanical art. Highlights included Buck Boudeman's Golden Submarine of 1917 and Chuck Davis' big four-cam Miller V16 of 1931. Two front-drives debuted following masterful restorations: James Brucker's 1927 Cooper91, a Miller copy financed by the Buick Division of General Motors, and Davis's 1935 Miller Ford, one of ten built under Henry Ford's aegis. Probably the earliest Miller in existence, a belt-driven single cylinder motorcycle dating from 1903-04 was also in attendance.
Best sight of a memorable day was that of Emil Andres, 84, twice winner of the Milwaukee 100, stepping into Robert Rubin's ex-Lucy Schell Maserati for the first time since he nursed it home to fourth place in the Indy 500, 49 years ago. The old tiger turned his cap backwards and put the hammer down. After a few glorious laps he came rolling in, and declared, to the delight of everyone, particularly restorer Chris Leydon: "Hell, if the thing had run this good in '46 I would have won the damn race."