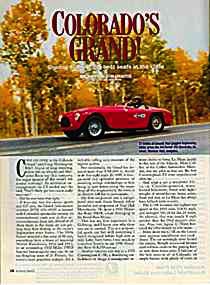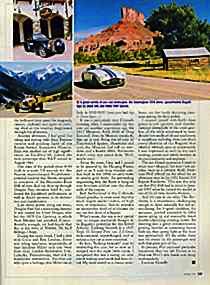 >>>
The small photo with the snow capped peaks is Chris and Rita Leydon thundering along in the Miller 91.
Colorado's Grand!
Sharing some of the best seats in the state
by Dennis Simanaitis
photos by Bob Dunsmore
"Come on over to the Colorado Grand," said Craig Morningstar, R&T friend of long standing, fellow old-car whacko and Mercedes-Benz rep (his company, the major sponsor of this event's 8th annual running). As Additional encouragement--as if I needed any--he said, "You'll likely get into some really neat cars."
Did he ever have that right.
A four-day tour for classic sports and GT cars, the Grand is blessed with Colorado's spectacular scenery, its unencumbered roads and its fine accommodations; these last, devoid of all those skiers as the slopes are just getting their first dusting in the event's September time frame. The 1996 Grand attracted a fine array of 90 cars, everything from a brace of beautiful Mercer Raceabouts, 1912 and 1913, to an astounding 1932 Miller FWD Special Indianapolis race car, to an eye-boggling array of 24 Ferraris, the event's most popular marque. It's a veritable rolling auto museum of the highest quality.
Not incidentally, the Grand has donated more than $700,000 to charity in its first eight years. In 1995, it inaugurated the splendid practice of awarding college scholarships to kids living in host towns along the route. Atop all this magnanimity, the event is an absolute ball for its participants.
My first assignment was a navigational stint with Frank Barrett, fellow journalist and proprietor of Toad Hall Motorbooks. He drove a 1955 Mercedes-Benz 300SL coupe belonging to his friend Russ Moran
.
This was my first experience in a Gullwing, and I know now why these care are so coveted. This is a puposeful sports car, but with something I hadn't recognized before: high style as well. Later, back home, I was struck by a spiritual kinship in our 1998 Mercedes-Benz SLK230 test car.
Another fabulous ride was in a 1953 Cunningham C-5R, a thundering embodiment of Briggs Cunningham's intense desire to bring Le Mans laurels to this side of the Atlantic. Miles Collier, of the Collier Automotive Museum, was my pilot in this car, the first Cunningham I'd ever experience close up.
And what a car: a wonderful 331-cu.-in. Chrysler-powered, drum-braked behemoth, fitted with lightweight if antediluvian beam axles, front and rear, as Le Mans has always been billiard-table smooth.
The C-5R recorded the highest top speed in the 1953 race, 154.81 mph, and averaged 104.14 for the 24 hours. As plotted, this was nearly 8 mph quicker than the 1952 winner's average. Alas, two Jaguar C-Types bettered the 1952 winner by a bit more.
Miles drove the C-5R on the Grand with extreme smoothness and confidence. The car seemingly never lacked for torque, though occasional broken road surfaces could be felt playing havoc with those beam axles. I had one of the best seats in all of Colorado, an ample bucket with plenty of room in the hollowed door panel for knapsack, camera, cliupboard and layers of clothing shed as the weather brightened through the afternoon.
Another afternoon, I had good fun riding and driving with Alice Preston, curator and guiding light of the Brooks Stevens Automotive Museum. Hers was another car of high significance: an Excalibur SS, indeed, the very prototype that R&T tested in August 1964.
Our data of the period show 0--60 mph in a scant 7.0 seconds for this Paxton-supercharged Studebaker-powered roadster that Borrks designed as evokative of the Mercedes-Benz SSK of yore. And my drive up through Douglas Pass, elevation 8268 ft., confirmed the Excalibur's performance, as well as Alice's prowess in its restoration and maintenance.
Like many points along our route, Douglas Pass had a fascinating history: It was named for Cheif Dougie, who led the 1879 Ute Uprising in which Nate Meeker had perished. Coincidentally enough, we had lunch that day in the town of Meeker. No hard feelings, I hope.
During the break, I had a chat with Chris and Rita Leydon, driver and riding mechanic, respectively, of that fabulous Miller race car; 'twas their shop, Leydon Restorations, Ltd., Lahaska, Pennsylvania, that did its handsome restoration. Another car with quite a heritage, this Miller ran at Indy in 1932--1937 (race cars had legs in those days . . . ).
It was a particularly crisp Colorado morning when I maneuvered my way into yet another marvelous car, the 1957 Maserati A6G 2000 of Greg Kirianoff. Even by Maserati standards, this car is rare, being one of only 12 Frua-bodied SPiders. Handsaome and cozy, the Maserati had roll-up windows and a heater. (Mrs. Simanaitis didn't raise any dumb kids. Well, maybe one.)
Along the route, Greg and I paused to be amazed byt eh Hanging Flume, part of an 8-mile-long wooden conduit built in the 1890s to carry water to nearby gold fields. An astounding engineering feat, the flume is hung on iron brackets drilled into the sheer walls of the canyon.
Bob Sutherland is the Colorado Grand grandee, in every sense that this word might imply--noble, of high rank, of importance. And he provided an automotive thrill-of-a-lifetime for me, my fisrt drive of a Bugatti.
What's more, this was a very special one, its unique coachwork thought to be Bugatti's prptotype for the fabled Atlantic. Lurking beneath is a 1927 Type 51 Grand Prix car, 2.3 liter, twin-cammed, supercharged, and as serious a race car as ever conceived.
In fact, "lurking beneath" may be overstating the case, for as soon as I wedged into thje tight little cabin, I recognized this was a racing car onto which the coachwork had been fitted. My heels rested on a chassis cross-beam, my feet barely skimming clearance among the three pedals.
I amazed myself with fairly clean pause-a-tad upshifts and double-clutched downshifts of the crash gearbox, all the while entertained by wondrous hot smells of oil and machinery, a cacophony radiating from just about every element of the Bugatti that whirled, whirred, spun or reciprocated. I was impressed as well by the car's steering, precise and utterly modern in its communication and grace.
The last Grand experience I want to relate was--illogical, but true--yet another once-in-a-lifetime thrill: Sherman WOlf offered me the wheel for an afternoon stint in his 1951 Ferrari 212 Export Barchetta. This was the very car that Phil Hill had in mind in January 1997 when he named the model as one of his all-time favorite Ferraris.
And it's easy to see why: The Barchetta is a sweetheart, challenging enough to drive smoothly but not intimidating. Its 4-speed crashbox, for instance, proved amenable to little pauses goiung up and reasonably timed double-clutching coming down. Its steering was a great communicator, getting heavier as cornering forces built up, then going light as the limit was approached. All the while, there was its owner in the passenger seat with that great grin of his.
In January, Phil expressed particular happiness that his old Ferrari is in Sherman WOlf's able hands and being used regularly.
I concur. Grandly.