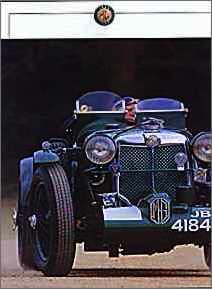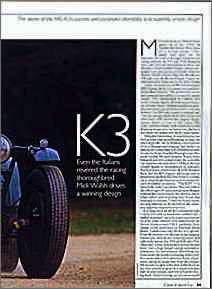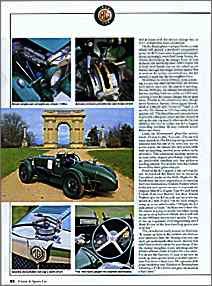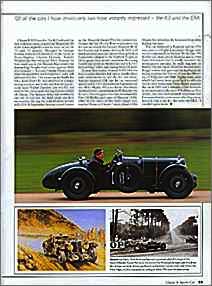 Classic & Sports Car
MG supplement, June 1999
MG's only great car? Britain's finest sports car of the 1930s? An English Alfa Monza? Bold claims for a limited edition 1100cc junior road racer but the legendary K3 took on Europe's finest in road racing and won. In 1933 and 1934, Abingdon was a new word in conversation at Milan and Modena as Cecil Kimber's trophy cabinet overloaded with prestigious silverware from the Tourist Trophy, Mannin Beg, two Brooklands 500 mile wins at Le Mans and on the Mille Miglia.
Under the leadership of MG's chief designer HN Charles, the K3 prototype was completed in less than 20 weeks. The secret of its success and continued desirability is its superbly simple design. The combination of a sturdy, well sorted chassis, highly efficient supercharged six-cylinder motor, brilliant preselector gearbox and cracking proportions proved a winning formula. Excellent axle location is a typical case. The rear springs absorb all the drive torque yet even today with double the original horse-power, there's no hint of axle tramp. The cable-operated brakes with handsome finned Elektron drums were the best of their day but it was under the bonnet that the K3 really scored.
Abingdon's knowledge of supercharging was well proven with recordbreaking, so once the old L-type ohc 'six' (a Wolseley development from a Hispano aero engine) had beefed up pistons and connecting rods, it had the stamina to take the boost from first Powerplus and then more reliable Marshall blowers. Today, finely balanced and with a steel crank, the venerable 'six' punches out more than 130bhp at the rear wheels thanks to development by specialist Baynton Jones which tunes 'K3020' featured here. But the K3's biggest advantage was its preselector gearbox (the first fitted to a racing car as original specification) and this makes the car's drivability so special. "The ENV 75 is beautifully made," says Jones, "but just think of the advantages of instantaneous gearchanges without having to release the steering wheel when others were wrestling with 'boxes that belonged in tractors." Only the flawed worm and peg steering can be faulted on this otherwise superbly engineered machine.
I've long admired the K3's functional style--early slab tank or handsome pointed tail--sniffed its potent Castrol R aroma and enjoyed its rich, raspy exhaust bark underscored by blower whine around VSCC paddocks. Now thanks to the generosity of American Dean Butler, I understand why the K3 is so special. From the moment you slip into its hip-hugging bucket seat, stretch out to the big wheel and tight pedal layout, this 1934 car feels right. The black dash is busy with an army of switches and dials, and a huge Jeager racing tachometer dominates the instruments. Stretching out from under the scuttle is a housing with a little five-spoke wheel that provides brake adjustment, taking up lining wear from the cockpit. MG's secret weapon is the little stubby lever on top that preselects gears in a sequential plan with reverse forward and first to fourth clicking back. Today's touring car hot-shots would feel at home with the demon change but, in 1933, it must have been sensational.
On the Buckingham road past Stowe, a route which will punish a modern's independent poise, the K3's beam axles hopped and skipped about alarmingly, every bad bump flexing the chassis and twisting the skimpy body. AT first its harsh ride and bump steer didn't inspire but at least both hands to stay on the wheel as we battled through the rough, ribbed apexes. But as soon as the surface smoothed out, the K3 started to track like the thoroughbred it is.
Stretching the revs to 6500rpm feels unnerving in a prewar steed but this baby's 'six' relishes such piston pace and the punch is startling. Beyond 4000rpm, the exhaust blat sharpens to harder, snarling bark not unlike an ERA and, combined with the instant change, the car guns away. Thanks to the preselector that charge never hesitates. Sammy Davis lapped Brooklands at 104mph and clocked 0--75mph in 14 secs for The Autocar in 1933 but today K3s are quicker still. The discipline and concentration required to plan gears ahead and the reward of taking the next cog exactly when needed by just dabbing the clutch makes the K3 a hugely rewarding machine. Its easy controls would flatter any driver.
Later, on Silverstone's glass-like service roads, it's easy to play Nuvolari. The car will easily unstick its 19in Dunlop racing covers for opposite lock fun out of the turns but, out on public roads, the chassis felt very predictable with an inspiring, neutral poise unless really provoked. This sensational machine scores in so many areas: magical gearchange, impressive go, predictable handling and that addictive snarling exhaust. No wonder even the Italians revered this little green charger.
Proof of the K3's appeal is this car's regular use. As you read this Butler will be retracing Gazzabini's tracks on the Mille Miglia for the fourth time but more impressive is its record at the Coys International Historic Festival where in the prewar sports car race it impressively outguns Alfas 8Cs, Bugatti Type43s and Aston Ulsters. Last year Butler's hot shoe Martin Walford put the K3 on pole and set a new lap record at 2 min 26 sec. On the back straight using up to an unbelievable 7500rpm the K3 pulls about 115mph: "At those revs it feels like the engine is going to scatter but when racing we never drop below 6300rpm and it will run to over 8000rpm but you don't need it. The rest of the car is genuine 1934 engineering and I think it's one of the best-handling sports cars of its era.
The preselector really scores for Walford: "It makes up time in the corners and focuses your approach. Into the breaking area you can really get underneath other racers because you don't have to worry about the gearchange. I like the mental discipline of pre-selecting and for drivers of lesser ability it makes life a lot easier. For an ace like Seaman, it's easy to see how he made up time against more powerful opposition. I've driven it back from MG specialist Bob Jones' workshop near Salisbury to Birmingham following a TVR Griffith and gave the modern a hard time."
Chassis K3020 was the 21st K3 built and the first with that classic pointed tail. Registered JB4184, it was originally a factory team car for the '34 and '35 seasons. Managed by George Eyston, it was raced extensively in the hands of Penn-Hughes, Charlie Dodson, Tommy Wisdom and fast-rising ace 'Dick' Seaman. Its best result was in the Mannin Beg around the demanding Douglas road course against a field that included 13 K3s and Freddie Dixon's rapid Riley Six special but not Humphrey Cook's still unfinished ERA. The event started badly for MG: Kaye Don's K3 was involved in a tragic testing accident and in the race former motorcycle racer Walter Handley, also in a K3, led until he hit a lamp-post, leaving Eyston to fend off Dixon. The luckless Riley star eventually ran out of fuel and the final result saw K3s monopolize the top five with Dodson second in K3020. In September Seaman joined Eyston in the Masaryk Grand Prix for voiturettes. Around the fast 18-mile Brno road course, the K3 was no match for Farina's Maserati 4CM but Eyston and Seaman (driving K3020) still finished fourth and fifth before chasing back to England to compete in the Nuffield Trophy at Donington. Here in wet conditions the young Cambridge graduate finished second in K3011 behind May's ERA, just missing the £200 prize.
Eyston then loaned Seaman K3020 for the East London Borders 100 race in South Africa with instructions to sell the K3 out there. Seaman finished fifth but the car remained unsold and in 1935 was loaned to Gazzabini for the Mille Miglia. With co-driver MacBunty (believed to be a pseudonym for Pellegrini) the K3 set a blistering pace in a class dominated by Fiat 508 Balillas and a pair of Maserati 1100s. After record times on the faster stages they reached Rome in 6 hours 7 mins, ahead of the Masers, but retired on the homeward run while leading the class.
The car returned to England and in 1936 was old to a Flight Lieutenant Briggs who raced it extensively in Ireland. By the late '50s K3020 had been sold to America and in 1968 Gary Schonwald had it totally restored. [by Leydon Restorations] An investigative attorney, he really dug into its history. On one trip to Ireland he tracked down Brigg's widow who gave him her husband's old racing trophies but best of all was the discovery of Pellegrini's old Mille Miglia route cards which had never been given back to officials due to their retirement. Dean Butler acquired the car in 1991 and it remains a firm favorite in his impressive collection: "Of all the cars I've driven, only two have instantly impressed and I've immediately understood why they are so revered. One is the K3, the other the ERA." I couldn't agree more.


K3 / Even the Italians revered the racing thoroughbred.
Mick Walsh drives a winning design.