The Amilcar
Dear Boss:
Went to Lahaska, Pennsylvania, to get pictures, like you said of winner of New Hope Show. Ed Leydon, owner of car, is great, hulking young college student, full of energy and enthusiasm for the car. Very pleasant and obliging fellow. We kept him from lunch until 4:30 in the afternoon, kept him hopping in and out of the Amilcar, backing it out of garage and putting it in again, trotting about showing us things, holding cameras and light meters and uncomfortable poses. Had him drive me, then sister Lisa, up and down the lovely road in front of their farm until one of the skinny Dunlops (4.0 x 23, I believe) popped. He changed tire with good cheer, and took up where we left off.
Place is so charming it hurts. Great stout trees all over the place, and good natured dogs, solid barns painted white and planted in hillsides up to their eaves, full of Indianapolis Mercedes and Rolls Royces and stuff like that.
Amilcar that won show is one of three that naval father purchased over the years to give to the three sons. Eldest boy has gotten his, restored it, and still drives it when he's home. Ed is middle boy. Fourteen-year-old youngest is waiting impatiently to get his hands on the unrestored hulk that awaits him in the barn. Boys have done complete restorations themselves, only getting the father's help when they come to insoluble problems. Seems effective way to stop juvenile delinquency--give your boy an Amilcar.
Gittens works too hard, kept us from sitting back against a hillside and enjoying the place. Constantly on his stomach under car, rocking around in the back of the station wagon shooting the moving shots, standing on his head, etc. Had us disassemble the car two or three times. Mirror business involved all sorts of calculation of angles, cryptic orders, mysterious hand signals. Evidently works. Broke frame of mirror during shooting session; undoubtedly priceless antique. We'll find out when they bill us. Pleasure to shoot car that was so workable, could be moved about for different angles, different backgrounds. Gittens wanted sheep in picture; Ed and I spent a half hour chasing sheep around a small pasture, finally got three or four of them within 60 feet or so of car. Canny creatures. Led me through gorse, got brambles in my socks.
Finally returned Amilcar to garage, mirror to house (quietly), went in to examine literature about Amilcar, let Ed eat some lunch (dusk approaching). Not much information, not as interesting as car.
Road performance is not flashing. Three-speed gearbox (nonsynchromesh) and no differential, seven R. A. C. taxable horsepower make the idea of racing--trying to hurry in it--just an area of speculation, particularly in view of relatively chancy mechanical brakes. Driver very busy. Like doing fifty miles per hour in a toy steam shovel.
Amilcars? Well, there isn't a heck of a lot of information. Designed for voiturette racing in England. Amilcars and Salmson about the only names that survived from that racing era. B.N.C., Rally, Senechal, E.N.P. are others that didn't get remembered. Two French engineers, Morel and Moyet started the company in 1920. Name comes from playing anacrostics with names of backers Lamy and Akar. Various models were produced, marque reached a pinnacle in the 1925 model, with 6-cylinder dohc 1100cc blown engine that put out 83bhp at 6000 rpm.
Meanwhile, side-valve four was continued, as in this car. Bore of 60mm, stroke of 95mm, 1078cc gave 35 bhp at 4500 rpm. Didn't particularly want to turn it that tight, although it sounded robust enough. Tach cable busted at present anyway. Anybody you know got a 1926 Amilcar tach cable?
Gear ratios (overall) of 12.8:1, 7.25:1, and 4.5:1 give 30, 50, and 70 mph respectively. No fuel pump--gravity feed. But had to back up no hills. Didn't climb many hills, and none of them very fast. Wheelbase is 91 3/4 inches, tread 43 inches. Didn't measure height.
Success of cars was combination of low weight (aluminum bodywork on wood frame, like airplanes), good roadholding, relatively high output and relatively high gearing. Center accelerator pedal and all three pedals on different planes, plus limited footroom led to confusion on my part, anyway.
Ed Leydon seems to have been rather pleased at winning Best of Show with his first car the first time it was ever shown. Got tires for his last Christmas present. Was leaving immediately to go back to college. Soccer practice. Hope he gets over those irregular eating habits.
Yours,
John Jerome


Car and Driver
January 1964
[Note: the fourteen-year-old referred to in this article is Christopher Leydon, founder of Leydon Restorations, Ltd. Of the three brothers who each got an Amilcar to restore and enjoy from their father Rear Admiral John K. Leydon, Chris is the only one who developed a life long passion for racing cars.]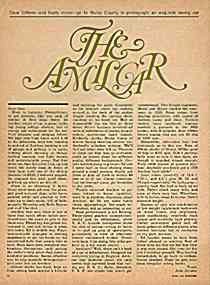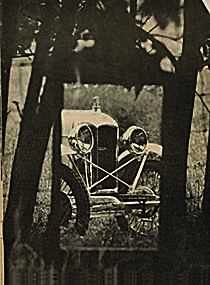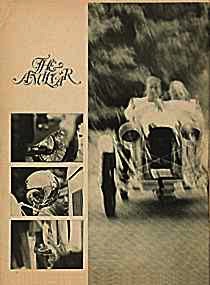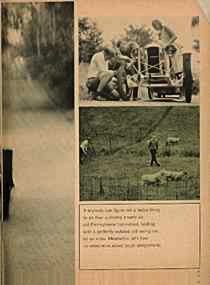 Dave Gittens--and trusty mirror--go to Bucks County to photograph an exquisite racing car.