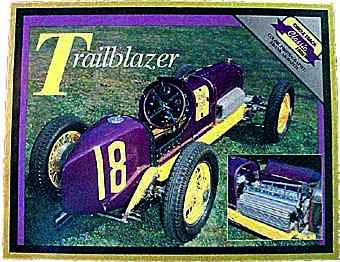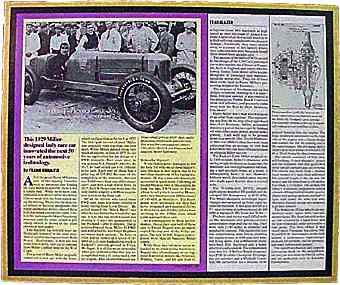 This 1929 Miller-designed Indy race car innovated the next 50 years of automotive technology.
by Frank Gudaitis
All of the great Harry Miller race cars of the roaring twenties were so awesome that finding the right words to describe them is not a simple task. While most were conventional rear-wheel-drive machines, eleven were made with the front-drive wheels doing the driving. Thanks to the dedicated efforts of Griffith Borgeson--the noted automotive writer--two of these truly legendary cars survive today. One is in the Indianapolis Motor Speedway museum, and the other, which is privately owned, is shown in the color photos on these pages.
This machine has recently been authentically restored to the same standard of quality one expects from Rolls Royce. Historically, it was the last front-wheel-drive race car to emerge from Miller's fabled shop of the west coast.
The genius of Harry Miller originally conceived a race car with the front-wheel configuration as far back as 1922. The first "pull-instead-of-push" Miller was originally built less than one year later. While Miller did not think very much of patents, in July of 1925, he did file an application for his design of a FWD transaxle. Two years later, he was granted U.S. Patent #1,649,361. By 1927, he had turned out 8 or 10 front-drive cars. Each one of them had a price tag of 5,000. Because of the complexity of the transaxle, this cost was more 000 more than one of his identical 91 cars with a rear-wheel drive. In 1925, his FWD race cars were also the very first to employ a de Dion suspension system on the front end.
Of all the drivers who raced these FWD cars, none was more colorful or more daring than Leon Duray. He called himself the "Black Devil" and when he was behind the wheel of a race car, it was like the devil himself was chasing it. Under the sponsorship of the Packard Cable Company, Duray acquired two of these Miller 91 FWD cars with which he and Ralph Hepburn set many track records. In June of 1928, Duray racked up a speed of 147 mph on a 2 1/2-mile banked oval at Packard's proving ground in Utica, Michigan. It is all the more incredible when you remember that this was accomplished with a 91-cubic inch (1500 cc) engine. This record remained unbroken for 26 years!
While Duray never managed to win the Indy 500 with one of these Miller 91 cars, this was in fact largely due to his merciless treatment of his racing machinery. He was a man who was totally interested in speed alone. Following his record-breaking tour in this country, he took the two FWD cars to Europe where he set a track record at Monza, and a new International 1500 cc record of 143 mph at Montlhery. The Europeans were astounded for they had never witnessed such manical daring in their races, nor did they (then) have anything in the 1500 cc class which could approach these cars.
As a consequence of these performances, Duray then sold both of these cars to Ettore Bugatti who promptly copied the top end of the Miller engines. The new DOHC Bugatti powerplants were thus all basically Miller copies.
While these two cars were never intended to be road-racing machinery, Bugatti also allowed many of the big-name European drivers like Nuvolari, Wimille, Varzi, and his son Jean to wring out these two machines at high speed all over the roads of Alsace-Lorraine. Quite often they would wind up in a ditch suffering considerable mechanical damage. Eventually they were stored away in a corner of this factory where they collected dust until Borgeson found them almost three decades later.
The success of the Miller FWD cars led to the design of the L29 Cord passenger car in this country, the Citroen in France, the Alvis in England, and others who followed. Today, front-wheel drive is commonplace in passenger cars manufactured the world over. They can all trace their roots back to Harry Miller's pioneering design of the Twenties.
The elegance of this classic race car is a delight to behold. Nothing on it is superfluous. This past summer, it was entered in the prestigious Pebble Beach Concours show in California, and promptly came away with the Best in Show Monterey Cup award.
Harry Miller was a man who was more of an artist than an engineer. The engineering was done by his very gifted right-hand man, Leo Goossen. Miller demanded that every part of his race cars be finished off with either paint, polish, and/or nickel plating. Each weld had to be ground down to a smooth fillet. Fred Offenhauser who was Miller's shop foreman, once estimated that an average of 1000 man hours went into this kind of beautification on a typical Miller race car.
The Packard Cable Miller weighed only 1400 pounds. Miller's obsession with saving weight bordered on fanaticism. No machinist was ever reprimanded for making a part too light when, as a result, it subsequently broke in use. However, Miller's wrath descended upon anyone who made a part heavier than it needed be.
The 91-cubic-inch DOHC straight eight engine weighed 330 pounds and developed 285 horsepower at 8100 rpm. The Miller-designed centrifugal supercharger was mounted up front, right behind the radiator. It was gear-driven at a 5:1 ratio turning at a phenomenal 40,000 rpm at top speed. The boost was 30 psi.
The bore and stroke was 2.187 x 3 inches. The aluminum alloy pistons carried 2 compression rings and one oil ring. They were only 2.180 inches in diameter and 4 1/2 ounces! This resulted in very low reciprocating mass forces, enabling the engine to turn at 8000-plus revs without flying apart. The combustion chambers were fully machined into a hemispherical configuration. The compression ratio was 9:1. A Robert Bosch magneto-type FH8 fired the Champion J10 plugs, one per cylinder, and a Winfield 2-inch-type SR carburetor fed a mixture of 80 percent benzine into the engine. The large aluminum intercooler on the right side of the engine was a Duray design that cooled the hot air coming out of the supercharger. The dry-sump, with a duplex gear-type pump circulated SAE 40 or 50 oil during the days it was raced.
The clutch consisted of four face, self-locking, 9-inch-diameter plates, and the transaxle had spur gears with three speeds forward and one reverse. The chassis was made from a channel hand-formed of 1/8 inch-thick mild steel. The overall length of the car was 146 inches, and the wheelbase is 100 inches. The track is 52 inches. The archaic (by today's standards) suspension system consists of longitudinal double quarter elliptic springs up front, and half elliptic leafs under the solid rear axle. Hartford friction shocks are mounted in all four corners.
The brakes on all four wheels are mechanical servo types with cast-aluminum shoes. The front inboard brakes are rod actuated by a hand lever, and the rear brakes are cable operated by a foot pedal. The tires (when it was raced) were Firestone Speedway 500-20 and 525-20. Instruments on the dash include a tachometer, supercharger pressure, oil pressure, fuel air pressure, and water temperature gauges.
The superb mechanical and cosmetic restoration work on this magnificent old race car was done by Chris Leydon and his dedicated crew in Lahaska, Pennsylvania.