The 200-Horsepower Benz
by Karl Ludvigsen, Contributing Editor
The Star / Mercedes-Benz Club of America
September / October 2005
Nearly a century ago Benz was flying high with victory in the 1908 Prince Heinrich Trials and, in 1909, fielding the world's fastest car. Now, thanks to its American restorers, a sister to the record-breaking "Blitzen Benz" is again alive and well.
Note: Leydon Restoration's contribution to the effort is noted at the very end and highlighted in red, like this text.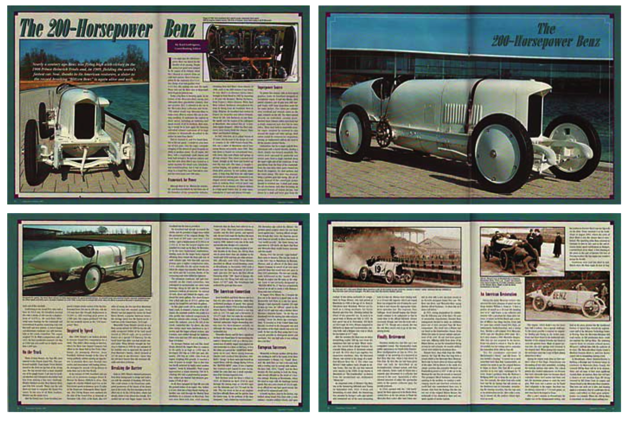 In its salad days the 200 horse power Benz was famed for the thunder of its passing. People seeing it at speed were stunned by the impact of its exhaust, which they likened to reports from an eight inch cannon. Since it was propelled by the explosion of a 5 1/2 liter charge of air and gasoline every 4.5 feet, this analogy was near the mark. Those who saw the Benz race at fairgrounds never forgot its guttural roar.
Today a big Benz is booming again. In my history of the Mercedes-Benz racing cars (Mercedes-Benz Quicksilver Century, now out-of-print. Ed.), I referred to the car in the Mercedes-Benz collection and wrote, "The author would urge Mercedes-Benz to make every effort to restore this car to running condition. It symbolizes the exploits in sheer speed, including an enduring land speed record, of all its brethren. How exciting it would be to hear again the booming individual exhaust explosions of its huge cylinders so dramatically, described to the author by artist Peter Helck."
They've restored it, and I've heard them. Not at flat-out speed——doubt it's even been out of first gear——but the eager, energetic chugging of this demon of speed bespeaks its ability to produce power. It's all engine, this Benz, with a surprisingly small chassis and body built around it. Its narrow radiator and tiny fuel tank show that it was created as a sprint machine for timed runs, hillclimbs, and record-breaking. But it had its beginnings in a Grand Prix racer that had to compete for seven hours over 500 miles.
Framework for Power
Although Benz & Cie. Rheinische Automobil und Motoren-Fabrik AG had been one of the founders of the automobile industry, stemming from Karl Benz's three-wheeler of 1886, early in the 20th Century it was losing its way. Karl's co-director Julius Ganss brought in fresh blood in 1902 by importing a 26-yearold designer, Marius Barbarou, from France's Albert Clément. While Karl Benz sulked, Barbarou strengthened his team by hiring Louis de Groullard. Born in Liège, Belgium, de Groullard had worked in France for Serpollet and Albert Clément, whom he left, with Barbarou, to join Benz. He rapidly won the respect of his colleagues at Mannheim, who praised him as "a first class engine designer." Other key Benz engineers were Georg Diehl for chassis, Hans Nibel, and Friedrich Nallinger.
In 1907, Fritz Erle, at 31 a Benz veteran of 13 years, led the team in the design of a car to compete in the 1908 French Grand Prix. Erle was a native of Mannheim who'd been racing Benzes successfully since 1901. They laid down a chassis on conventional lines, with short, slim semi-elliptic leaf springs at all four comers. They chose a pressed steel frame, straight at the front and kicked up over the rear axle. The latter, a straight I-section forging, was guided, as was normal chain-drive practice, by two trailing radius arms. A long drag link from the right-hand worm-and-nut steering gear connected to an elegant curved steering arm. The care they took in making these critical parts was attested to by an absence of chassis failures in a high-speed history that, in some cases, extended to 15 years and almost 150 mph.
Superpower Source
To power this chassis, with its four-speed gearbox, Louis de Groullard designed an exceptional engine. It had two blocks, their paired cylinders cast of gray iron with integral heads, with large inspection ports for the water jackets. Two valves per cylinder were overhead and vertical, inlets on the right, exhausts on the left. The latter opened directly on individual circular ports. Between these exhaust outlets each head had a single siamesed port that fed its inlet valves. These were held in removable circular cages, retained by screwed-in caps around the single-coil valve springs. Both valves could be removed for inspection, trueing, or replacement without the need to lift the massive cylinder blocks.
Carburetion was by a single updraft Benz instrument with a barrel throttle, feeding a short, simple two-branch manifold. The valves were operated by pushrods and rocker arms from a single camshaft along the upper right side of the crankcase. It was gear-driven from the front of the crankshaft. From the cam drive other gears rotated two Bosch D4 magnetos, for dual ignition, and the water pump. The latter was unusual, being a positive gear-type pump, like an oil pump, instead of the centrifugal pumps already in common use. A small gear pump for oil circulation, only then becoming an accepted feature of engine design, was driven by a shaft and bevel gear from the back end of the camshaft.
Conforming to the Grand Prix rules with a bore of 154.9 mm, De Groullard married this with a stroke of 160 mm for a displacement of 12,076 cc. He used three white-metal main bearings for the crankshaft and conventional H-section connecting rods with thin-wall cast-iron pistons. A barrel-shaped cast-aluminum crankcase was split horizontally at the crank centerline. The engine weighed 755 lb. With a compression ratio of 4.8:1, the four produced a nominal 120 bhp at 1,500 rpm and could run to slightly more than 1,600 rpm.
On the Track
Three of these Benzes, the Type RD, were entered in the French Grand Prix. They performed manfully. Team leader Victor Héméry moved to the front on lap four of the 10-lap race. He was second when a stone smashed one of his goggle lenses. A pit stop for medical attention and subsequent discomfort kept him from making a late-race challenge. Héméry finished second, René Hanriot third, and Fritz Erle seventh. Theirs was the only three-car team to complete the Grand Prix intact. In the eyes of all Benz loyalists, Héméry was the moral victor.
After the French race, Louis Groullard prepared a longer-stroke version of his big four. Extended from 160 turn to 200 mm, with the 155-mm bore this brought displacement to 15,095 cc. Still reaching peak power at 1,500 rpm, this engine produced 158 bhp but was modestly known as the "150 hosepower" Benz.
Inspired by Speed
After 1908, Europe's car makers decided to boycott Grand Prix competition for a while. This didn't affect racing in America, where the Benz Auto Import Company had offices in the Motor Hall in New York's Manhattan. Its managing director, Jesse Froehlich, believed strongly in the value of racing publicity, seldom missing an opportunity to promote Benz cars through race entries and associations with leading drivers. He arranged for several 150-hp Benzes to make their way to the New World.
In the summer of 1909, Froehlich sold one such car to promoter-manager Ernest R. Moross for Barney Oldfield to drive. That August the colorful Oldfield used it to set the first record speeds at distances up to 25 miles on the brand-new Indianapolis Motor Speedway. Two 150-hp Benzes were mustered for the start of the Grand Prize at Savannah on November 12th, 1910. At the finish, after 415 miles of racing, the two cars from Mannheim were less than two seconds apart. Victor Héméry was just pipped for victory by David Bruce Brown, a popular American winner. His average speed was the fastest yet for a road race in the United States: 70.55 mph.
Meanwhile Victor Héméry carried on as a Benz racing stalwart. In 1909 he was the officially recognized holder of the land speed record at 109.65 mph, set in southern France on a special V-8 Darracq. Yet the world knew that other cars had already traveled faster. When Héméry brought the Darracq to Daytona in 1906 he was outraged by his inability even to approach the speed of Fred Marriott's Stanley, which steamed at 127.66 mph in one direction——faster than the 200 km/h barrier that still remained officially unbroken in Europe.
Breaking the Barrier
Early in 1909, Héméry obtained permission from Benz management to design and build a car with the potential of breaking 200 km/h. This could restore to the Frenchman undisputed possession of the laurels of the fastest man in the world. The firm foundation for this effort was to be the 150-hp Benz, which had already shown it was almost fast enough. All it needed was an even bigger engine. Louis DeGroullard was the man to provide it.
De Groullard had already increased the stroke; now he provided a bigger bore within the parameters of his original design. The new bore of 185 mm——just over 7-1/4 inches——gave a displacement of 21,504 cc or 1,312 ci. It was the largest engine ever installed in a road car by Benz, by Mercedes, or by the later hyphenated combination. Finding room for the larger bores required offsetting them toward the front and rear of each cylinder pair. New thin-wall, cast-iron pistons gave a higher compression ratio, 5.8:1, tolerable for the sprint events for which the engine was intended. Both the piston skirts and the I-section shanks of the connecting rods were drilled for lightness.
The aluminum crankcase, still split horizontally on the crank centerline, was redesigned to accommodate two more main bearings. Along its left side the crankcase included a built-in oil reservoir. An external oil tank, above and behind the engine, contained five more gallons. For short-distance runs a fuel tank size of 19 U.S. gallons was typical; the Grand Prix tank held 40 gallons.
So this giant could still be started with a hand crank, it retained a feature of the G.P. engine: the camshaft could be slid axially to a lobe profile that reduced compression by delaying exhaust valve closing. A T-handle under the radiator, just to the left of the crank, controlled this. Up above, the inlet valve rocker arms were machined to an I-section and the longer exhaust rockers, also I-section, were drilled through for lightness. Valves were just over 100 mm in diameter, a huge 4.0 inches.
Its stronger bottom end and fine detail design allowed the biggest Benz to continue to rev safely to as high as 1,650 rpm. It developed 184 bhp at 1,500 rpm and, ultimately, 200 bhp at 1,600——this from an engine weighing 896 pounds. It reached a ratio of power to weight "that at that time was hardly achieved by highly-tuned aviation engines," wrote K. Schnauffer. Peak torque approached a chain-straining 700 lb-ft. (Putting this into a performance perspective, today's far heavier SLR-McLaren generates 575 lb-ft. Ed.)
In all, Benz equipped six Type RE cars with this ground-shaker of an engine. One, believe it or not, went into a long-chassis touring car. Another was sold through the Madrid Benz distributor to a customer in Barcelona. Two cars were fitted with slim, wind-cheating bodywork that the Benz men referred to as "cigar" form. They had narrow radiators, suitable only for short sprints, and tapered tails. Its new body made the big Benz the most exciting looking automobile to take to the road in 1909. Indeed it was one of the most spectacular auto designs ever conceived.
Spare and slim as a racing airplane of several decades in the future, the 200-hp Benz was to prove faster than any airplane in the world until 1920 and than any other automobile, officially, until 1922. Victor Héméry launched its official record-breaking career at Brooklands in November 1909 with a speed over the flying kilometer of 125.947 mph, just over 201 km/h, the first official fracturing of the "200" figure in Europe. His speed over the flying half-mile was even faster, 127.877 mph. The Frenchman had achieved his goal and then some.
The American Connection
Jesse Froehlich and Ernie Moross saw to it that two cars came to America, where they performed prodigies of speed. One opened its account in March 1910 at Daytona Beach, where Barney Oldfield covered a one-way mile at 131.724 mph and a kilometer at 131.275 mph. Over two miles he recorded a flying 128.88 mph. Just at that time the international authorities began demanding two-way runs for short-distance records, so although the timing was unofficial, it was undeniably fast.
Thereafter Barney and the Benz capitalized on their new-found fame by barnstorming the nation's fairground ovals in a Moross-promoted tour of artfully staged races against his own teammates in a Knox or Darracq. At first the white car carried the "LIGHTNING BENZ" name on its cowl. Motor racing historian Charles Lytle credited Ben Kerscher, Oldfield's "stooge" in these races and himself an expert driver, with the change during 1910 to the "BLITZEN BENZ" name. It was a baptism that created a new legend in auto racing. Added for extra flair was a small reproduction of the German Imperial crest.
Bob Burman took the Benz's wheel in 1911. At Daytona on April 23rd he sped through the timing traps at 140.865 mph over the kilometer and 141.732 mph for the mile. This was twice as fast as any airplane had then officially flown and far quicker than the fastest train. As the publicity of the time trumpeted, "only a bullet has traveled faster." The Horseless Age called the Blitzen "the greatest speed creation which has ever been raced against time." Lacking official recognition though they were, the Daytona speeds were featured proudly in Benz brochures as "our world records." The faster timing was equivalent to 228 km/h, the figure that Benz and Mercedes-Benz would forever associate with this model.
During 1912 the second "cigar-bodied" Benz came to America. This was the result of a late-1911 trip to Mannheim by Burman, Moross, and an official of the Benz Auto Import Company in search of an even more powerful Benz that would lend new spice to their 1912 promotions. The new one was initially ballyhooed as the "Jumbo" Benz, though its engine was the same as the original. Later it was correctly designated as "BLITZEN BENZ No. 2" but less scrupulously lettered on its tail to credit it with Burman's flying-mile time at Daytona.
In August 1914, Blitzen No. 2 became the first car to be timed in a speed trial on the Bonneville Salt Flats as a site for speed. Though it had reportedly reached 155 mph in tune-up runs, its "official" speed on the salt of 142.85 mph was only a whisker above Burman's Daytona figure. "As the big car thundered over the starting line with exhausts roaring," wrote the Motor Age correspondent, "it sounded as if the United States had become involved in the European war and the artillery of the triple entente was at its red work. So fast was the Benz going that it was scarcely possible to distinguish driver and mechanic. For one-half mile it was nothing but a red blur."
European Successes
Meanwhile in Europe another 200-hp Benz was strutting its stuff in the hands of the Benz representative in Britain, L.G. "Cupid" Hornsted. His dark-blue car had a two-seat body with a cowling over its normal wide radiator. On June 24th, 1914, "Cupid" and the Benz became the first pairing to hold the flying-mile record officially as the result of a two-way attempt. Running at Brooklands, where the need to cope with the bankings limited speed, they set a new record of 124.10 mph. As an official two-way land speed record, this would not be surpassed until 1922.
A fourth big Benz, kept by the factory, was bodied along Grand Prix lines with a wide radiator, wooden artillery wheels, and open cockpit. It was driven exclusively in competition by Franz Hörner, who had arrived at Mannheim in 1906 at the age of 24. Born in Odenheim near Bruchsal, Hörner cut his teeth as a riding mechanic for Victor Héméry and Fritz Erle. Climbing behind the wheel of this powerful car, he took it to speed trials in Russia and Italy in 1913. Its best speed was at St. Petersburg: 202 km/h or 126.6 mph. in 1914, Hörner competed in hillclimbs in Spain and Czechoslovakia, winning both, and a Belgian time trial in which he was fastest at 117.7 mph.
After the Armistice the Benz men set about assembling usable 200-hp cars from the equipment they had on hand. Where necessary they moved their design forward, for example fitting pistons of aluminum instead of steel. By 1921 they'd put together two impressive machines. One, the Hornsted chassis, was revived in the image of a modified Blitzen Benz No. 2. The other was Hörner's wide-radiator racer. Despite its vintage looks, this was the car that enjoyed more success in the 1920s. It was known at Mannheim as "The Grandmother" as distinct from the streamlined car, nicknamed "Skinny Joe."
An important entry of Hörner's big Benz was in the Semmering Hillclimb near Vienna on September 24th, 1922. A twisty and demanding six-mile climb, the Semmering was attended by Europe's nobs and nabobs and considered one of the most demanding tests of a fast car. Hörner wasn't feeling well, so a 24-year-old engineer who'd just joined Benz was assigned the job of testing the racer to tune it and choose the approptiate chaindrive sprocket size. The engineer, Fritz Nallinger found himself hoping that Hörner would continue to be indisposed so that he could drive in the official hillclimb. Hörner recovered, though, and won the event with a time of 7:35. Though not a record, this was the only Benz victory ever to go on the Semmering books.
Finally Retirement
Nineteen twenty-two was this car's last competitive season. The Grandmother made public appearances on behalf of the DaimlerBenz amalgamation as late as 1933, for example at the unveiling of a memorial to Karl Benz that year, when it was driven by Fritz Erle. By then the car had been given what can only be described as an hermaphroditic exhaust system, with four stub exhausts, below each of which was a separate pipe downward to a collector that passed to the rear. Apparently a valve allowed selection of either the spectacular stubs or the quieter collector pipe, for parade purposes.
In 1934, painted with the "228 km/h" speed, the Benz appeared at the Berlin Show, rushed there at the last minute to flaunt the Mercedes-Benz colors after Auto Union startled its rival with a new one-hour record in its Porsche-designed Grand Prix car. The Benz, was there, said Mercedes-Benz racing director Alfred Neubauer, "to show that we'd done it all before."
In 1935, during preparations for celebration the following year of the firm's 50 years of automobile manufacture, Daimler-Benz management decided to make an exhibition piece out of their assorted Type RE Benz components. The result was a Blitzen-type car based on the Grandmother chassis. From Skinny Joe came its narrow radiator and portions of its cowl. Its tail and hood panels were new, differing subtly from those of the Blitzen Benzes, as was the streamlined fairing around its stub exhausts. Its wooden artillery wheels were hidden by aluminum discs.
Painted silver, then white from the 1980s onward, the Type RE Benz has long been a prized exhibit at the Mercedes-Benz Museum. Much that we know about its history and that of the other 200-hp Benzes is the result of a simple question that journalist Richard von Frankenberg posed in 1957: Is the car in the Museum the one that set records in America? This prompted Alfred Neubauer, retired but assisting in the archives, to conduct a wide-ranging search and interview everyone he could find who remembered these cars. It became clear from his findings that this was not one of the original Blitzen Benzes, but technically it was identical to them and certainly capable of similar exploits.
An American Restoration
Among the many Museum visitors who admired this mute phantom of speed was San Diego hotelier William L. Evans Jr. "I have a picture of myself as a 16-year-old standing next to it," said Evans, a car collector and restorer with a penchant for chain-drive veterans. A winner at Pebble Beach and a member of MBCA's San Diego Section, Evans and his team have rebuilt Grand Prix Fiats, an Indianapolis Isotta-Fraschini, and a racing Stutz. Besides a still-original 1914 Mercedes 28/95 (see our May/June 2004 issue. Ed.), he'd once owned a 1902 Mercedes Simplex. After that car was acquired by the factory, Evans was asked to restore it. That he did so successfully was his visiting card to undertake the restoration of the 200-hp Type RE.
"It's the automotive equivalent of Michelangelo's David," said Bill Evans. "It just needed a cleaning." It turned out to need somewhat more than that. Commendably, no attempt was made to ape the original Blitzens in shape or decor. This Type RE is a proud machine in its own right, unchanged for 70 years. Evans's guidance from the Museum's Wolfgang Rolli was to keep the car just as it was. For example, the entire front axle could have had the tin fairings that still remain on the dumbirons and its extremities, streamlining the steering knuckles, but this was seen as an amelioration too far. After a day's cooking in linseed oil, the artillery wheels tightened up nicely.
The engine, which hadn't run for more than half a century, was a special challenge. To the extent possible it retained its originality. Finding gun bluing on the rocker arms, Evans had them blued in the traditional style. Bakelite of the original formula was found to carry the ignition wires. Made of square-section wire, the valve springs were rewound of the original steel. When plating was required, the technique used was a type of flash plating distinctive to Benz.
Among the engine work done at Chris Leydon's shop in New Hope, Pennsylvania was the making of new valve assemblies, including the intricate annular inlet valves. The critical pistons also needed replacement, not because they were inherently faulty but because they'd corroded where steel inserts had been cast into the aluminum pistons to carry the wrist pins. With most cars a piston can be found that's adaptable to the engine, but there was no obvious source for a 7-1/4inch piston, so new ones had to be forged in Texas.
After a year's sojourn in Pennsylvania the engine was set for dynamometer testing, only for Leydon to discover that it was too big to fit on his dyno. Evans received it at his workshops in August 2004, where his crew of three fitted it into the chassis they'd refurbished. The sparkling white Benz returned to Germany in time to take part in the end-of-season motor sports celebrations in Stuttgart, a proud Evans at its wheel. A first showing to the press at the end of January fell foul of freezing weather; the big engine just wouldn't accept the throttle.
Conditions were cool but ideal in mid March when the Benz made its bow in England at the press preview, for the Goodwood Festival of Speed then wowed the sophisticated staff of the McLaren Technology Centre at Woking. Even the Mercedes-McLaren SLR road rocket, in full production there, could not outshine the 200-hp Benz. The stuttering reports from its exhaust echoed across McLaren's artificial lake with the authority of its years. The Mercedes-Benz Classic Center's Manfred Oechsle drove it, and Uwe Karrer coped with its demanding starting crank.
At Brooklands, where DaimlerChrysler is building a Heritage and Technical Centre to celebrate its Mercedes-Benz brand, the restored 200-hp Benz will be in its element. Sister cars set many of their most significant records there. In America, Benz fans will have a chance to see another Type RE being restored by Bill Evans from an engine and chassis found in the MercedesBenz inventory. That even one such car is alive and running again is a sensation; that we could have two to enjoy——and reflect on their great achievements——is a miracle. Where the 200-hp Benz is concerned, we should expect nothing less.