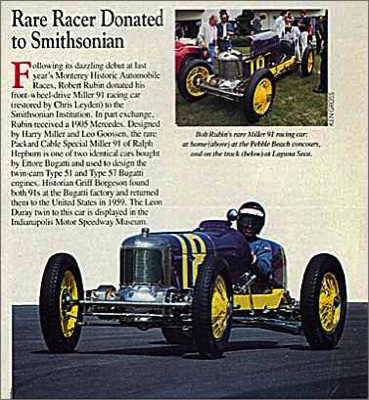 Automobile Magazine,
September 1992
Following its dazzling debut at last year's Monterey Historic Automobile Races, Robert Rubin donated his front-wheel Miller 91 racing car (restored by Chris Leydon) to the Smithsonian Institution. In part exchange, Rubin received a 1905 Mercedes. Designed by Harry Miller and Leo Goosen, the rare Packard Cable Special Miller 91 of Ralph Hepburn is one of two identical cars bought by Ettore Bugatti and used to design the twin-cam Type 51 and Type 57 Bugatti engines. Historian Griff Borgeson found both 91s at the Bugatti factory and returned them to the United States in 1959. The Leon Duray twin to this car is displayed in the Indianapolis Motor Speedway Museum.
(caption) Bob Rubin's rare Miller 91 racing car: at home(above) at the Pebble Beach concours, and on the track (below) at Laguna Seca.