Motorbooks International, 1993
Miller by Griffith Borgeson
with the Smithsonian Institution
Design by Leydon Grafix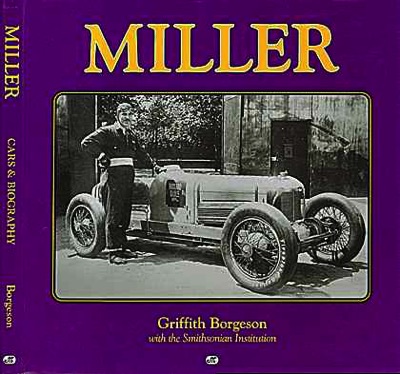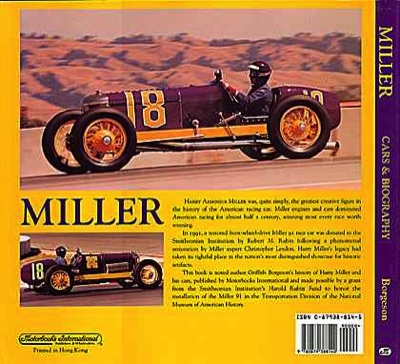 Text on back cover of book:
Harry Armenius Miller was, quite simply, the greatest living figure in the history of the American racing car. Miller engines and cars dominated American racing for almost half a century, winning most every race worth winning.
In 1991, a restored front-wheel-drive Miller 91 race car was donated to the Smithsonian Institution by Robert M. Rubin following a phenomenal restoration by Miller expert Christopher Leydon. Harry Miller's legacy had taken its rightful place in the nation's most distinguished showcase for historic artifacts.
This book is noted author Griffith Borgeson's history if Harry Miller and his cars, published by Motorbooks International and made possible by a grant from the Smithsonian's Harold Rubin Fund to honor the installation of the Miller 91 in the Transportation Division of the National Museum of American History.
page 116 pertains to Leydon Restorations, Ltd.:
. . .
This spectacular renaissance of an all-too-forgotten masterpiece happened to coincide with developments at the Smithsonian Institution. There, in the Transportation Division of the National Museum of American History, auto racing expert Gordon E. White, aided by curator William L. Withuhn, had conceived and developed a collection plan for historic American racing cars. AT the top of their list was a representative Miller.
White was not sure of how many authentic Millers survived, and he spent a good year researching the question among his contacts all over the country. The ex-Harrah/Lyon car had dropped totally out of sight, until well-known automotive historian Richard F. Merritt provided the clue that led White to Christopher Leydon's scientific laboratory of a shop in Lahaska, Pennsylvania. He arrived at that point in the story when old Number 18 was in pieces, undergoing revision and restoration from the ground up.
It so happened that Leydon's father--Rear Admiral John K. Leydon--already had close associations with the Smithsonian, which made White a particularly welcome visitor. Learning the identity of the car's owner, White promptly contacted Rubin who, at that time, was interested not in museum talk, but in getting his historic front-drive 91 flashing around racing circuits again.
When Leydon's restoration was completed there was no doubt in White's mind that this was the car that the Smithsonian should have. Rubin was persuaded to meet with museum officials and the idea of donating the car to the nation was launched. Four months went by, while both he and the museum pondered the matter. The museum engaged experts from the world's leading auction houses to appraise the car. This was after the price crash of 1991, but estimates of its current market value ran as high as $5 million--quite a bit to give away.
However, Rubin knew that his car was a national treasure and he liked the idea of it joining the Wright Flyer and the first American probes of outer space. Rubin expressed certain desires, among them that the Miller should not be interred in the museum in perpetuity, but instead should be taken out from time to time and allowed to stretch its sinews and howl, for purposes of cultural edification. To implement this he posted a $100,000 endowment for the Transportation Division. He named the endowment for his father, Harold Rubin, a retired school teacher of mechanical arts. The accord finally reached gave Robert Rubin, in partial exchange for the Miller, an early Mercedes.
On Christmas Eve 1991, one absolutely pristine front-wheel-drive Miller 91 took up residence in a museum storage building, to await its official installation. That event occurred on April 23, 1992, when glistening Number 18 took its place in the nation's most distinguished showcase for historical artifacts. I had the honor of being there, along with the museum's directors, Robert Rubin and his parents, and a fascinating array of guests. Everyone felt that the car had found its proper home.