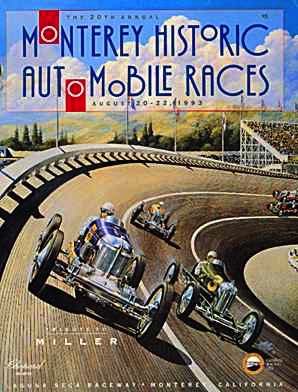 The 20th Annual Monterey Historic Automobile Races,
Laguna Seca Raceway
Monterey, CA
August 20 -22, 1993



Today we celebrate the achievements of Harry A. Miller, America's greatest automotive engineer. His time was the first half of this century and his story is a fascinating one. You will leave here with a new perspective on serious motor racing. This gathering of Miller's work is the largest representation in modern times and would not have been possible without the help and cooperation of the owners . . . .
--Steven J. Earle

The Packard Cable Special Miller leads the pack on the event program cover. This Miller was brought back to glory by the dedicated efforts of Leydon Restorations, Ltd.